Welcome to Peterson Roofing
Commercial Roofing Contractor Modesto CA
Leader in Re-Roofs and Roof Restoration in Modesto
High-Quality and Detailed Modesto CA Roof Inspections.
Factory Certified in California for a Multitude of Roof Systems.
Highly Rated and Experienced Local Commercial Roofing Crews.
Service and Maintenance Crews Available in Modesto CA for Your Emergency Roof Needs.
Upgrade Your Modesto CA Roofing Experience
About Peterson Roofing
Peterson Roofing is a full-service commercial roofing contractor specializing in re-roofing, replacements, repairs, and maintenance services for occupied buildings in California. Our commitment to quality ensures the best customer experience by providing the most accurate solutions for your building's needs using premium materials and award-winning craftsmanship. At Peterson Roofing we are dedicated to providing our clients with the highest level installation and maintenance of all types of commercial roofing systems. Our roofing professionals proudly serve California and beyond.
OUR MANUFACTURERS
Your commercial roof could be one of the biggest investments of your life. With our roof replacement, roof repair, roof inspection, we can help you protect your investment and give you the Perfect Roofing Service in the industry.
We Can Save You Money On Your Next Roofing Project
At Peterson Roofing, there are three things that are most important to us: High Quality Work, Superior Customer Service, and Pricing Transparency.
Frequently Ask Questions
The most common causes of flat roof leaks in Modesto CA are blisters, pressure ridges, bare felts, and ponding of water.
Built-Up Roofing (commonly known as "asphalt and gravel" or composition roofing) was one of the most reliable approaches for flat commercial roofing and industrial roofing applications. It was invented in England in the 1840s where it rained a lot. While the materials and technology have evolved, the basic premise remains the same.
There are 3 basic components in a B.U.R. system, waterproofing, reinforcing and surfacing.
They are either secured using hot asphalt or torch applied:
Waterproofing keeps you dry
Reinforcing ensures maximum structural integrity
Surfacing (most often done with a top coat of asphalt covered with UV-reflecting aggregate or mineral) keeps the underlying structure protected from water, light and wind. Surfacing is also known as ballasting.
Yes, few companies can match our expertise in repairs of commercial roofing in California. You can expect a prompt response and an honest appraisal of what needs to be done.
The most common causes of flat roof deterioration and leaks include:
Standing water
Harsh winter weather
UV damage from the sun
Lack of general maintenance
These issues can cause blisters, pressure ridges, and result in bare felts that all increase the risk of flat roof leaks.
At Peterson Roofing, we recommend that all commercial building owners in Modesto CA start getting flat roof inspections on the first year they are installed, and continue with annual inspections every year thereafter. These inspections can help prolong your flat roof's lifespan, and provide the opportunity for early flat roof leak detection, vital debris removal from the roof surface, and avoiding costly and time-consuming issues down the road as the result of emergencies.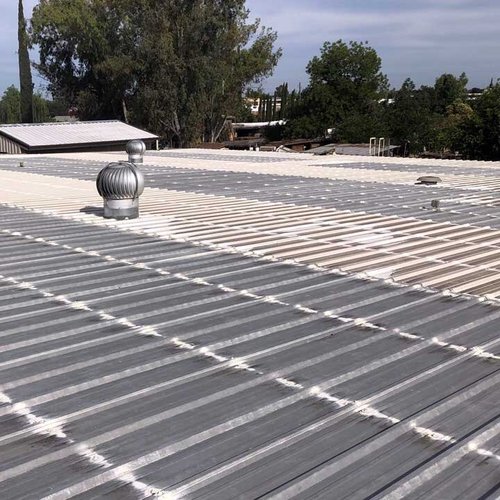 5 Star Customer Reviews
We have an average of 5 out of 5 customer satisfaction.
Roofing Contractors and Roof Replacement Modesto CA
Are you searching for professional roof coating companies in Modesto? Look no further than Peterson Roofing. Our experienced team understands the importance of protecting your roof from the elements and extending its lifespan. We offer comprehensive roof coating services that provide an effective barrier against UV rays, leaks, and other potential damage. When it comes to commercial roofing services in Modesto, CA, Peterson Roofing is your go-to choice. Our team of skilled and experienced commercial roofing contractors in Modesto ensures exceptional craftsmanship and long-lasting results. We understand the unique needs of commercial buildings and offer tailored solutions to meet your requirements.
Peterson Roofing is one of the leading roofing contractors in Modesto. Whether you need roof repair, replacement, or installation, our team of experts is equipped to handle it all. Trust us to deliver exceptional results and customer satisfaction. For top-quality roofing services in Modesto, CA, including roof coating, repair, restoration, and replacement, Peterson Roofing is the name you can rely on. Contact us today for a free estimate and let us take care of all your roofing needs!
We are the perfect solution to all your roofing problems
A professional roofing expert to walk you through each step of the project, explaining everything along the way.